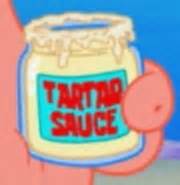 Tartar sauce is an edible condiment in the SpongeBob world and our world. It is seen in a few episodes such as "Back to the Past" and "Imitation Krabs."
Appearances
Edit
Tartar sauce can be found in the condiment aisle of the Krusty Krab.
In "Imitation Krabs," SpongeBob shoots Mr. Krabs with a tartar sauce machine.
A robot enemy type in Battle for Bikini Bottom shoots burning tartar sauce.
Ad blocker interference detected!
Wikia is a free-to-use site that makes money from advertising. We have a modified experience for viewers using ad blockers

Wikia is not accessible if you've made further modifications. Remove the custom ad blocker rule(s) and the page will load as expected.