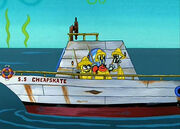 The S.S. Cheapskate is a boat seen in the episode "Clams." This is the boat SpongeBob, Squidward, and Mr. Krabs go Clam Fishing in to celebrate the success of earning Mr. Krabs' 1 millionth dollar. The ship rolled on the water in a filthy lagoon for 3 days. Mr. Krabs lost his one millionth dollar on the ship, but gets it back.
Appearance
Edit
The S.S. Cheapskate is an old fishing boat, with some brown rust marks on the hull. There is a bridge to navigate the boat form, along with a tall red flag on the back of the boat. There is possibly a wheel house, and there is a galley with a refrigerator. There are also some deck chairs on board.
Mr. Krabs - Captain.
SpongeBob - Fisher, Bait.
Squidward - Fisher, Bait.
The title of the boat is a spoof on the S.S. Orca from the movie Jaws.
When the boat is first seen, the escape boat on the side is not seen. It is possible it is in the boat or on an unseen part of it.
Obviously, the name was meant to describe its owner.
Considering the name of the boat and the poor quality it likely belongs to Mr. Krabs.
Ad blocker interference detected!
Wikia is a free-to-use site that makes money from advertising. We have a modified experience for viewers using ad blockers

Wikia is not accessible if you've made further modifications. Remove the custom ad blocker rule(s) and the page will load as expected.