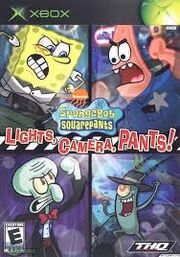 SpongeBob SquarePants: Lights Camera PANTS! is a multiplayer party game made by THQ Australia and WayForward Technologies. It was released in October 2005 for the Xbox, PlayStation 2, GameCube, Game Boy Advance, and the PC.
Plot Synopsis
Edit
The producer of the show "The Adventures of Mermaid Man and Barnacle Boy," Gill Hammerstein, wants to film the show in Bikini Bottom and use the town's citizens as its stars. SpongeBob wants to be the star, but so do his friends, so he must duke it out with Patrick, Squidward, Mr. Krabs, Plankton, and Sandy. You can watch the full 12 minute episode after the game is over, and they have roles according to where they finished.
The game features party style gameplay inspired from the Mario Party series, consisting of 30 different mini games. The game is best if played with others, but can be played single player as well.
Mini-Games
Edit
1. Flippin' Out (2 vs 2 Player)
2. Order Up (2 vs 2 Player)
3. The Bouncers (2 vs 2 Player)
4. Inflatable Pants (4 Player)
5. Weight & Sea (2 vs 2 Player)
6. Surf Resc-Goo (4 Player)
7. Goo-Ladiators (4 Player)
8. Pedal of Honor (4 Player)
9. Floor It! (4 Player)
10. Rock Bottom (4 Players)
11. Jig on the Brig (4 Player)
12. Beats Me (4 Player)
13. Machine Meltdown (2 vs 2 Player)
14. Surface Tension (4 Player)
15. Charge! (4 Player)
16. Jellyfish Jamboree (4 Player)
17. Jellyfish Swish (4 Player)
18. The Tide Piper (2 vs 2 Player)
19. Seahorse Stampede (2 vs 2 Player)
20. Breakin' Out (4 Player)
21. Rubble Rabble (2 vs 2 Player)
22.Blisterin' Barnacles (2 vs 2 Player)
23. Rope Burn (2 vs 2 Player)
24. Flingin' & Swingin' (2 vs 2 Player)
Unlockables:
25. Mother of Pearl (4 Player)
26. Hook, Line, & Cheddar (4 Player)
27. Tethered & Weathered (2 vs 2 Player)
28. Loot Scootin' (4 Player)
Tiebreakers:
29. Rock, Paper, Scissors (2 or 4 Player Tiebreaker)
30. Two Up (3 Player Tiebreaker)
Reception
Edit
IGN gave this game a 7, which is a good review, praising it's use of the license and its fun story line while negatively saying the game lacked depth and dialogue gets repetitive.
The PC version of the game has a 68% on Metacritic while the other versions have slightly lower averages.
When SpongeBob goes to the Mermalair, he can be heard saying Bad Word #11.
This game was also set to be released on the DS and PSP, however they were not released on those systems. They may have been replaced by "The Yellow Avenger."
A Nintendo DS version was released in Korea only.
The PC version of this game has several similarities to the PC version of The SpongeBob SquarePants Movie game.
This is the last SpongeBob SquarePants game released for the Xbox.