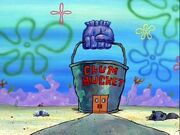 The Chum Bucket is the residence of Plankton and Karen and a rival restarunt to the Krusty Krab. It, however, is a massive failure and it constantly fails to attract customers. It's former slogans were "Chum is Fum" and "Fum is Chum"
Plankton's Chum

Chum Burger

Chum Fries

Chum Nuggets

Chumbalaya
 

Chum Melt

Chum Puddle

Chum Loaf

Chum Balls

Chum Yum!

Chum Shake

Chum Chili

Chum Pot Pie

Chum Stir Fry

Chum Cake

Chummy Joes

Chumstick

Chum Fricasee
Ad blocker interference detected!
Wikia is a free-to-use site that makes money from advertising. We have a modified experience for viewers using ad blockers

Wikia is not accessible if you've made further modifications. Remove the custom ad blocker rule(s) and the page will load as expected.