Bob the Sponge 
is an very early version of
SpongeBob SquarePants
.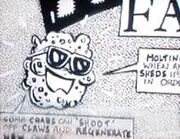 Stephen Hillenburg
first made Bob the Sponge in 1989, for a comic book, Bob the Sponge co-stared with Rocky the Shrimp in the comic book as well. Bob the Sponge actually resembles a real sponge, but he wore sunglasses and had a mouth to speak with. Bob the Sponge had evolved into
SpongeBoy
 around 1994, and later evolved into SpongeBob SquarePants. Bob the Sponge and SpongeBoy are both proto-types of SpongeBob, though SpongeBoy resembles SpongeBob more than what Bob the Sponge does.
Fun facts
Edit
SpongeBob's French name Bob l'eponge can be translated to Bob the Sponge.
Ad blocker interference detected!
Wikia is a free-to-use site that makes money from advertising. We have a modified experience for viewers using ad blockers

Wikia is not accessible if you've made further modifications. Remove the custom ad blocker rule(s) and the page will load as expected.